Imagine improving your ability to run, jump, sprint and throw while bridging the gap between an okay performance and optimal performance.  Weight training can help with all of the above. Through increases in strength and power the athlete improves their ability to move their body and other objects through space.  The more effectively we move the better we can compete in athletics and go about our daily lives.
In addition to improvements in strength and power the athlete can also increase muscle mass through weight training. This benefit may serve to be very useful in sports such as football where body size can be a factor.  Enlargement of the muscle cells or hypertrophy is the reason for increases in muscle size and also adds to the ability of the muscle to increase force.
A weight program is a necessity for optimizing performance in most athletes. Three ways that weight training may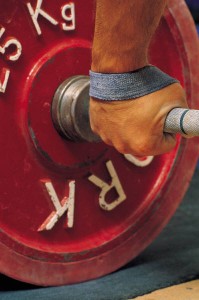 benefit the athlete include hypertrophy, strength and power.  I give below very basic examples of how the athlete can train for each one of these benefits.
Hypertrophy-  Hypertrophy is the enlargement of muscle fibers which leads to increased muscle size. If the athlete desires to effect a change in body composition with addition of fat free mass and subsequent decrease in body fat percentage, hypertrophy training is often recommended. A program aimed to encourage hypertrophy would typically consist of moderate loads, high volume and short to moderate rest periods.  Training in this fashion can also serve as a way to provide good general conditioning to the muscles of the body.
As an example, a football player may perform 3-6 sets of 6-12 repetitions of the front squat.  The sets performed would typically not include warm-ups. Rest periods between sets may be between 30 seconds to 1.5 minutes.  In the case of a football player, hypertrophy training may serve as preparation for the strength and power phase of the athlete's sport performance program as well as increasing body mass.
Strength-  Strength is important for a variety of athletes from football linemen who must physically move other players to the cross country runner who may desire to maintain an increased stride length throughout the last 100 meters of a race.  If an athlete intends to increase strength, high loads, moderate to low volume and longer rest periods tend to be recommended.
An example may include 5 repetitions of the back squat performed for 3 sets by a cross country athlete.  A foundation of overall strength is important for a majority if not all athletes.
Power- If the athlete desires to increase power or explosiveness variable intensity and low volume exercise with longer rest periods are advocated.  This type of training aims to increase the amount of work which is performed under a smaller period of time.  For a shot putter this would equate to a shot being put with increased force more rapidly.
An example of power training for a shot putter may include performing 1-2 repetitions of the power clean for 1-3 sets.  The sets performed would typically not include warm-ups.  Rest periods between efforts are typically 2-3 minutes.
In addition to a foundation of weight training, the athlete should incorporate components of aerobic conditioning, agility and flexibility training.  The type of training should be tailored to meet the needs of each individual athlete.  Before beginning weight training the athlete should be cleared by a physician and ideally a coach or professional trained in strength and conditioning should oversee the program.  If an injury needs to be worked around the skill and knowledge of a physical therapist or athletic trainer may be of benefit.